Help (FAQ): Free Depression Blogs - Free Anxiety Blogs


How do I create a blog?
To create a blog simply click on the Create a Blog! link which is found in the main navigation menu. You will be directed to a registration form. The registration form is straightforward to complete and your blog will be created instantly. Details of your blog and your username will be e-mailed to the address you provide.
I've completed the registration form, and nothing seems to have happened. What next?
Details of your user account and blog are e-mailed to the account you specified in the registration form. If it appears you have not received an e-mail please check your Junk or Bulk mail folder, as your e-mail provider may have accidentally filed these e-mails in an inappropriate folder.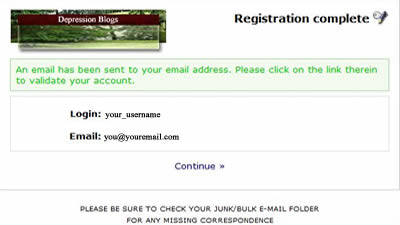 In more detail:
On completion of the registration form, you will be sent a verification e-mail. This e-mail requires you to click on the link within to verify we have your correct e-mail address. When you click on the link not only will your e-mail address be verified with our system, but your blog will be established. At this point a second e-mail will be sent to you detailing the address (URL) of your blog, and a link to where you can access the administration of your blog.
If you are sure you provided us with your correct e-mail address, have checked your main Inbox and Junk or Bulk mail folder, and still have not received these registration e-mails, please wait twenty four hours in case of lag. If after twenty four hours you have not received any correspondence from this site, please reapply by clicking on Create a Blog!. Failing all else, please Contact Us.

Where is my blog?
When you first create your blog an instruction box appears on the main Home Page detailing where your blog is located and how to access the administration of your depression/anxiety blog. If for some reason you missed this information you can find your blog's address (URL):
By clicking on Blog List as it appears in the main navigation menu. All public b

logs are listed alphabetically.

From the e-mail notification sent to your Inbox upon verifying your e-mail address.

How do I write a simple blog post and publish it to the Internet?
Visit your blog. The address of your blog can be found in the e-mail sent to you when you registered.

If you're not signed into your account, then sign in by clicking on Log In, which is located on the Home Page.


The blog toolbar is located across the top of your browser window. It looks something like:

Click on Write as highlighted in red below:

You will now enter the back office/admin of your blog and be presented with the main form to write a blog entry: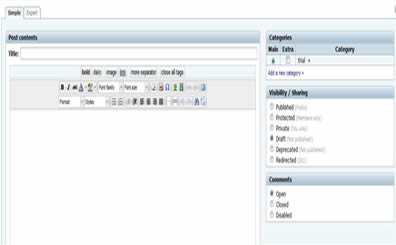 Give your blog a Title and then write the main body of your post.

On completion of your blog post you need to select the Visibility/Sharing of your blog. The Visibility/Sharing options can be found to the right of where you have written your blog post. To publish your blog post so it can be read by anyone that visits this site, ensure Published (Public) is selected as highlighted in red below:

Finally click on Save, which can be found underneath the text you have entered as the main body of your depression/anxiety blog: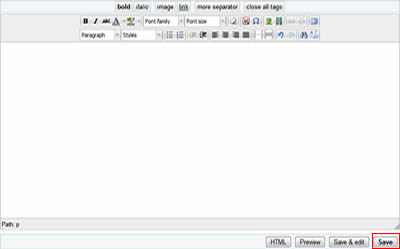 Upon hitting save you will be taken to your blog and you will be able to see the results of your efforts.
I've written a blog post and it's not appearing within my blog?
The most likely reason your blog post is not visible to others is that you have not selected to publish the post (it is saved as a draft), and/or you have inadvertently not elected to make it public. To adjust a post so it can be read by everyone, you need to adjust your post/draft by using the blog toolbar at the top of the screen. Once you have navigated your way to your post/draft, please adjust the settings by selecting the following option as highlighted in red:

Click Save and your post should now appear within your blog, and will be open for anyone on the Internet to read.
How do I customize my blog? (How do I change the appearance of my blog (skin)? / How do I add a subheading? / How do I add a description of my blog?)
Ensure you are logged in and are viewing your blog (the address of your blog can be found in the e-mail sent to you when you registered).

Click on Customize - located on the main blog toolbar as shown below:


Select which option you wish to adjust and follow the instructions in the administration section of your blog. For example:

To adjust the appearance/skin of your blog: Customize > Blog Skin
To adjust the subheading and description of your blog: Customize > Blog Properties

How do I manage the comments I have received?
Managing comments that have been left on your blog couldn't be easier. Assuming you have left the default comment options active, each time you get a comment you will receive an e-mail, which will notify you of:
The content of the comment left.

A link to the administration of your blog which will allow you to: Edit / Publish / Deprecate / Delete the comment(s) you have received.

The IP and Hostname of the sender; this is primarily to help eradicate spam (please Contact Us if you receive unwanted comments, advertisements etc).
I have further questions. What should I do?
This blog site offers you the ability to create dynamic and personal blogs. This help guide is only meant as an introduction. To make the most of all that this site offers please feel free to experiment with the intuitive blog system we have prepared for your use.
We are confident you will be able to create diverse blogs that integrate your blog with your Twitter account, include videos from many sources such as YouTube (please view the available Widgets for more information) and so on. If you however have any questions, or need assistance creating blogs, then please don't hesitate to Contact Us.